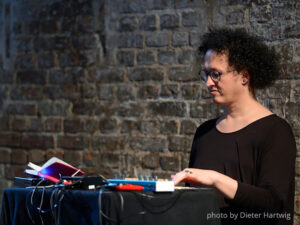 Korhan Erel is an electronic musician, improviser, sound designer based in Berlin. They play electronic instruments using various controllers, and compose, perform music and design sounds for dance, theater, installations and film. Among their projects is the trio The Liz, with whom Korhan played in several festivals and venues in Germany, Norway, Switzerland and Turkey. They play in the new music ensemble Trickster Orchestra and jazz ensemble Istanbul Composers Orchestra. They have been playing since 2011 in duo with prepared bass player Gunnar Lettow.
Korhan is a founding member of Islak Köpek (2005 – 2017), Turkey's pioneer free improvisation group, which is regarded as the band that started the free improvisation scene in Turkey.
Korhan has had three residencies at STEIM (Center for research & development of instruments & tools for performers) in Amsterdam, where he studied use of sensors in music performance and instrument design. He was a guest composer at the Electronic Music Studios in Stockholm in January 2011.
Korhan has ten CD releases on FMR (UK), Gruenrekorder (Germany), Creative Sources Records (Portugal), Evil Rabbit Records (Netherlands/Germany), A.K. Müzik (Turkey), Müzik Hayvanı (Turkey) and Kukuruku Recordings (Greece) as well as several digital releases.
Korhan performs regularly as a solo artist as well as with their projects. They performed in Soundtrips NRW, Moers Festival, Labor Sonor, Klangzeit Festival, Borusan Music House, XJAZZ, All Ears, New Adits, Akbank Jazz Festival, Berlin Jazz Festival, TADAEX and at many more venues and festivals across the world.
Korhan's collaboration with Sydney-based video artist Fabian Astore "The Threshold" has won the Blake Prize in Australia in 2012.
Homepage: www.korhanerel.com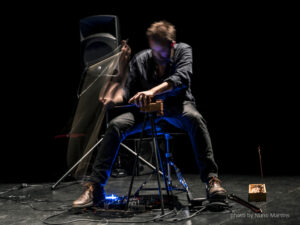 Kriton Beyer is a Greek-German musician and composer who – as a performer and improviser – works mainly with the harmonium and the daxophone.
He studied musicology at the Aristotle University of Thessaloniki in Greece. From 1990 – 2004 he played with a variety of local music groups in Greece, such as Sakis Papadimitriou's troupe "omada epi topou" (the "ad-hoc ensemble") and the post-rock group "Sigmatropic". In 2004 he moved to Berlin, where he got heavily involved in the improvised music scene of the city.
Since then, he has worked with many musicians like Kalle Kalima, Fred Lonberg-Holm, Kresten Osgood, Tristan Honsinger, Tomomi Adachi, Richard Scott, Willi Kellers, Matthias Bauer, Antonis Anissegos, Olaf Rupp, Els Vandeweyer, Harri Sjöström, Nicola Hein and Liz Allbee. Kriton Beyer is a member of the electroacoustic trio "uproot", the ensembles "Redox Reaction", "AEAEA" and the "Berlin Soundpainting Orchestra". He is involved in the multimedia project "Dark Eye" with Korhan Erel and Nicolas Wiese, the movement, sound and light experiment "enLIGHTenment" with butoh dancer Yuko Kaseki and has cooperated with japanese visual artist and live painter Akiko Nakayama.
In his work with the harmonium, Kriton Beyer uses both the natural sound of his instrument and "traditional" playing techniques as well as preparations, objects and extended techniques. His daxophone play is characterized by a very personal musical and sonic aesthetic, deviating from that of the instrument's inventor Hans Reichel, who often had a tonal approach to the instrument. Kriton Beyer chooses to work sometimes with a stripped, minimal and strictly acoustic sound of the instrument, while at other times – in contrast to that – he also works with setups ranging from subtle to sometimes extensive use of effects and electronics.
As an improvising musician, he has performed throughout Europe. His compositions are largely based on conceptual art. Kriton Beyer has also conceived and commissioned the music software CinePrompt®, which was specially developed for the use for live musical performance and live recording to films.
He curates and manages the concert series and record label "The Procrustean Bed", dedicated to Experimental Improvised Music, as well as the performance series "Audiovisual Ventures at the Kühlspot Social Club" dedicated to Realtime Visual Performance and Improvised Music.
Homepage: www.kritonbeyer.com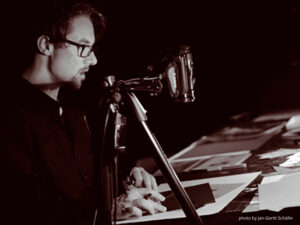 Nicolas Wiese is an audiovisual artist, designer and composer/performer of electroacoustic music. He has been living and working in Berlin since 2006.
Wiese studied communication design, illustration and communication theory at the University of Applied Sciences in Hamburg (completing his undergraduate degree / diploma in 2005). Apart from that, he attended Sound Studies at the University of Arts Berlin and courses in philosophy and sociology at the University of Hamburg.
Nicolas Wiese creates works in a wide range of formats and media, for various contexts: installation and spatial performance, contemporary electronic composition, relational and improvised music, graphic art, drawing, collage, radio and experimental film. His work testifies to a strong interest in the deconstruction and reconstruction of found images / found sound / quotations from mass media and everyday life – centering on themes of ambiguous perception, contradiction and the suggestive use of images, of mediated communication. Speech, the written word, architecture, complex abstraction and refraction of nostalgia all play important roles in Wiese's aesthetic output. His stop-motion collage video techniques give rise to pieces rich in detail and layers, which play with opacity and transparency, and often with the perception of time.
In his sound works and electroacoustic compositions, Wiese primarily uses short fragments of acoustic source recordings, which are then collaged, layered and processed to different degrees of recognition. These techniques, following the Musique Concrète tradition, are augmented by the adept use of sample-triggered polyphonic feedback modulation and great attention to crafting a highly spatial listening experience.
As a freelance graphic designer, since the mid '00s Wiese has been working primarily for clients and organizations in the fields of art, music and culture. Additionally, he has conceived numerous projects as an organizer/curator, mostly events of a multi-disciplinary or intermedia nature – starting from self-organized exhibitions in his student years and the gallery program of the studio community SKAM (Hamburg, 2003–2007), followed by shows in Berlin off art spaces and underground locations, the well-received studio series QUIET CUE in Berlin-Neukoelln (2009–2016, together with Michael Renkel) all the way to elaborate large-scale projects such as Festival HoerenSehen 2.0 (Berliniche Galerie 2009, funded by Hauptstadtkulturfonds) and Quiet Cue at KINDL (2015, at the invitation of the artistic director of KINDL Centre for Contemporary Art).
In recent years, Wiese has engaged in educational art projects, in different teams and subjects – including for instance animation film and sound workshops designed to support young migrants and refugees learning German.
Performances, shows and screenings (selected):
Teheran Annual Digital Art Exhibition (Iran), Festival Sonikas Madrid (SP), Kettenreaktion 2016, Kulturnacht Solothurn, Imprimerie Basel (CH), Neue Musik in St. Ruprecht, Velak-Gala Vienna (AT), De Witte Zaal Ghent (BE), Duotone Arts Festival Kelowna (CA), British Film Institute London (GB), Altera! Festival, Perditempo Naples (IT), Festival HörenSehen / Berlinische Galerie, REM / Museum Weserburg Bremen, Galerie für zeitgenössische Kunst Leipzig, Konzerthaus Berlin (DE), Galerie Wohfahrt Rotterdam (NL), Urban Jealousy / Hafriyat Karakoy, Dogzstar Istanbul (TR).
Homepage:  www.nicolaswiese.com