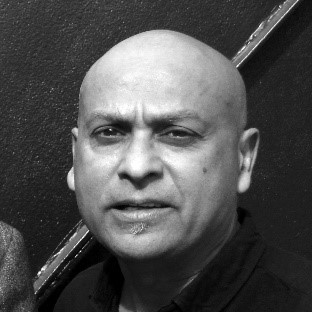 Ganesh Anandan is an Indian percussionist active in musical fields ranging from traditional Carnatic to contemporary improvised music. He studied the kural (bamboo flute) and the mridangam (trad. percussion instrument) in his native city of Bangalore, India, before moving 1976 to Canada, where he studied piano and western percussion and began his prolific musical career. As an experimental luthier Ganesh started building Percussion Shruti Instruments in 1995 based on the Indian 22 interval octave. He built the electric 6 and 12 string shruti stick, which he usually prepares to obtain a wider sonic palette of tonal and percussive sounds and developed unique personal playing techniques including transposed Carnatic finger drumming style on these instruments.
Ganesh has worked with a variety of international artists and ensembles including: Ensemble Modern (for which he wrote a piece in 2005), Conny Bauer, Hans Reichel, Omar Sosa, Malcolm Goldstein, Glen Velez, Bob Brozman, Glen Moore, Kazuhisa Uchihashi, Ramachandra Borcar, Ramesh Shotham, Karnataka College of Percussion, Debashish Bhattacharya, sculptor Pascal Dufaux and in the field of theater & dance: Nouveau Théâtre Expérimental, Robert Lepage, Margie Gillis and many others. He has recorded numerous CD's and has been commissioned to compose music for various Film, Theatre and Contemporary Dance projects.
Homepage: www.fingerworks.org
Marcello Lussana is an Italian composer, musician and programmer who specializes in interactive systems. His work especially focusses on the relation of music and human movement. He holds several degrees from various European universities: a Master degree of Sound Studies at the Berlin University of the Arts (UdK), a Master of Technology and Communication Studies at the University of Turin and a diploma in foreign languages and literature at the University of Bergamo.
Marcello Lussana produces computer music for audiovisual performances, dance, and theater and established himself as an improviser in the Berlin 'Echtzeitmusik' scene as a live electronics musician. As a performer, he uses Max/MSP, Pure Data and Supercollider Patches for interactive environments as well as Motion Composer Software that he developed himself. He is the musical director and project manager of the Motioncomposer project and co-founder of the netlabel Fantomton. Marcello Lussana lives and works in Berlin.
Homepage: www.motioncomposer.de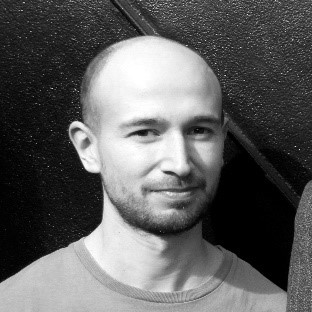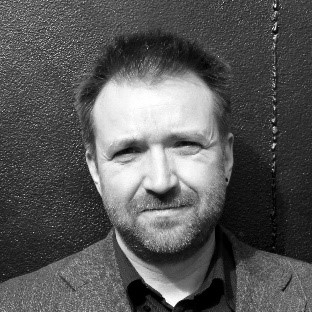 Kriton Beyer is a Greek-German musician and composer, who – as a performer and improviser – mainly works with the harmonium and the daxophone. He studied musicology in Greece where he collaborated with a variety of local music groups. In 2004 he moved to Berlin, where he got heavily involved in the improvised music scene of the city. Since then he has worked with many musicians like Kalle Kalima, Axel Dörner, Kresten Osgood, Tristan Honsinger, Tomomi Adachi, Richard Scott, Floros Floridis, Willi Kellers, Matthias Bauer, Antonis Anissegos, Olaf Rupp, Els Vandeweyer, Harri Sjöström, Nicola Hein and Liz Allbee, dancers like Yuko Kaseki and visual artists like Akiko Nakayama. Kriton Beyer is a member of the electroacoustic trio "uproot", the ensembles "Redox Reaction", "AEAEA" and the "Berlin Soundpainting Orchestra".
In his work with the harmonium, Kriton Beyer uses both the natural sound of his instrument and "traditional" playing techniques as well as preparations, objects and extended techniques, while his daxophone play is characterized by a very personal musical and sonic aesthetic, and an unconventional technique, sometimes also supported by the subtle use of electronics. As an improvising musician, he has performed throughout Europe.
Homepage: www.kritonbeyer.com